Iron Quilter 2 is Here!
The deadline for submissions is closed. Read below for voting instructions!
You've been preparing your whole life for THIS moment. It is now time to put to work the cumulative knowledge, skills, passion, zest, and determination that you have developed over the years. Are you ready to be pushed to the limit? There will be late nights. There will be tears. There will be seam rippers. But what would you give ... *dramatic pause and switch to the William Wallace voice from Braveheart* ... would you be willin' to trade ALL the days, from this day to that, for one chance, just one chance, to be next IRON QUILTER???!!!
That's right quilters, it's time to resurrect the fabled contest that commenced two years ago in the days of yore. It is with a smile on our face, and a rotary cutter in our hand, that we proudly introduce IRON QUILTER 2!
This year's Iron Quilter contest is extra exciting because we've partnered up with RJR Fabrics, who have provided the secret ingredient from one of the their top selling fabric lines AND an awesome prize pack. We also have other amazing sponsors - Baby Lock, Clover, Madeira and Hobbs, which have all donated generous prizes for our winners.
So without further ado, here are the contest details.
Date of Contest
The Iron Quilter 2 contest runs from September 23rd to November 30th, 2013. The deadline for project submissions is November 30th at midnight CST. After the submission deadline we will have a voting period, where you, the people, decide the next Iron Quilter.
Secret Ingredient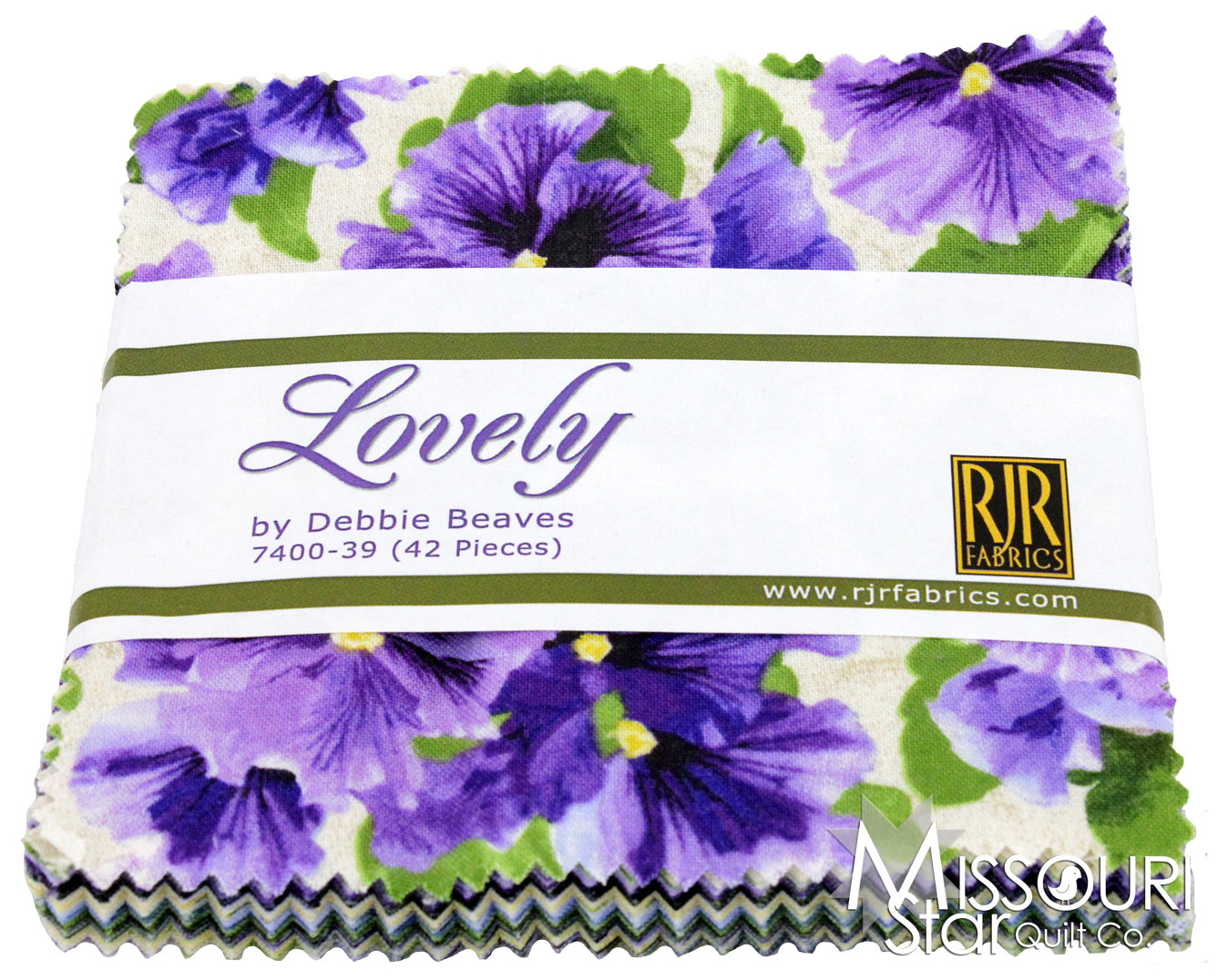 Each Iron Quilter participant may purchase up to 4 Lovely charm packs by Debbie Beaves of RJR Fabrics at the special Iron Quilter price of only $3.95. This ingredient (at least one complete charm pack) must be used in your project to enter. Each 5" charm pack contains 42 squares (some prints are duplicated). They can be purchased along with any other MSQC products and daily deals. They are available while supplies last, so don't delay!
-------------------------------
Sorry, the special ingredient is now sold out, but you can still participate in the contest by voting for your favorite projects. Read below.
-------------------------------
Use whatever pattern you want, whatever other fabrics you want (including other Lovely fabric & precuts). Just be sure to work 1-4 of these special charm packs into your project. Be creative!
Iron Quilter - The Top 25 Have Emerged!
We started with over 450 stunning Iron Quilter projects and you, the people, voted up your favorite ones. Now we're down to just 25! Well, 28 actually. Jenny used all of her three "saves", so three projects that did not make the top 25 are still in the contest!
We just want to thank, from the bottom of our heart, all the participants that didn't make the final round of voting. There were so many projects that absolutely took our breath away that haven't moved on. You should all be proud of yourselves for the time, skill and creativity that went into your projects. We hope that you will continue to be part of the contest by voting for the remaining projects that you feel deserve to win.
There may still be 28 Iron Quilter hopefuls left, with six prizes to be won, but only one can be crowned the Iron Quilter. Now it is up to you to decide who that quilter should be! So from now until Sunday night (Dec. 15th) at midnight, voting will be open on both Facebook and Google+. Voting links and instructions are the same as before, but for those who need a refresher, here's how to get involved in voting:
1) Go to the Facebook Album where we've uploaded all the submissions.
2) To vote on a project click on an individual photo from the album and then "like" it. Each "like" will count as one vote. Feel free to comment on and share any of the projects, although doing this will not count as an extra vote - only likes are counted. You may vote on ("like") as many or as few projects as you want!
3) Alternatively (if you don't have Facebook) you can vote on our Google+ album using your YouTube or Gmail login and vote by clicking the 1+ button on the projects you like. Feel free to vote on both Facebook and Google+
4) You have until Sunday the 15th to vote for your favorite submissions.
5) The 6 projects with the most votes at the deadline will get to choose prizes (first place gets first pick, etc), and the project with the most votes will also be named the Iron Quilter!

So go vote, vote, vote!
Prizes
Now for the best part - prizes! We're lucky this year to have so many amazing sponsors who have donated generous prizes. There are six prizes to be won. We will let the first place winner select whichever prize they'd like first, second place will get second pick, and so forth. Here's a list of the prizes up for grabs:
We will let the first place winner select which prize they would like first, and so forth.
1) The Baby Lock Rachel Sewing Machine - worth $800

No one knows your style better than your friends ... and no one can help you bring your ideas to life like your friends in the A-Line Series from Baby Lock. The Baby Lock Rachel machine is the star of any sewing class. This computerized sewing machine has 50 stitches and push-button features to make every project easier. Learn more about the Rachel sewing machine at www.babylock.com.
2) $500 worth of Quilter's Cash from the Missouri Star Quilt Company

MSQC Quilter's Cash can be spent on anything sold at the Missouri Star Quilt Company. Each point is worth one cent, so the winner of this prize will get 50,000 Quilter's Cash points! You can buy an awful lot of fabric with that! For more info on quilter's cash, click here!
3) A $500 gift basket of fabrics from RJR Fabrics.

RJR Fabrics boasts an array of gorgeous fabric lines, designed by some of the most talented designers in the world. This prize includes an assorted basket of fabrics (including precuts) from RJR - a welcome addition to any quilter's stash!
4) A $500 gift baskets of notions from Clover

Clover is a leading producer and innovator of quilting notions. Any job is easier if you have the right tools ... and quilting is no exception. Clover is giving an collection of notions worth $500 to one of our lucky Iron Quilter finalists.
5) Madeira Cotona Thread Chest - Worth $165

Madeira Cotona No. 50 is the perfect cotton thread for the discerning quilter. Made of extra-long staple, double mercerized Egyptian cotton, Cotona is made according to the most stringent quality and environmental guidelines. Its high tensile strength and consistent sheen make it the ideal cotton quilting thread for machine quilting, applique and piecing. This Mini Thread Chest includes (30) 1000yd spools; 15 Solid and 15 Variegated in a teak chest with brass handles.
6) Hobbs Quilt Batting

More details on this prize to come soon ... but we CAN tell you that it's batting :)
So there you have it quilters! Can't wait to see what you all make! Get quilting! Good luck to all the participants! Do YOU have what it takes to be the next IRON QUILTER?!