We pulled out a map & pointed to a spot somewhere in the Midwest and said, "That's where we'll go!" With a mix of worry and excitement, we packed up our seven kids and drove across the country to rural Missouri. It's clear to us now that this seemingly random choice wasn't random at all—we were guided to the right place.
The Missouri Star Quilt Company started in Hamilton, a town of about 1,500 charming people. Like many small American towns, employment was scarce—many of our friends and neighbors had to travel long distances or leave the area altogether to find employment. It was disheartening to see the town that we had grown to love filled with abandoned buildings, falling into disrepair.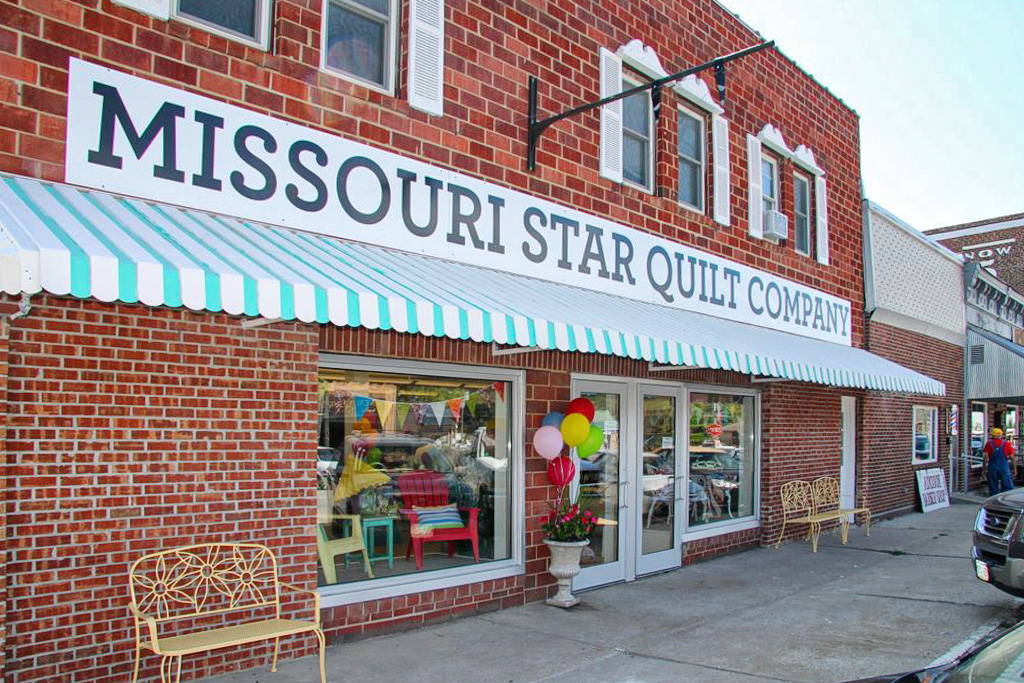 For years, Ron traveled an hour and a half each way to work as a mechanic for the Kansas City Star newspaper. He worked long hours and many night shifts to support our family. As many did, we lost most of our retirement savings in the 2008 stock market crash. To make matters worse, the newspaper industry was declining and we feared that Ron would soon lose his job. Every last dime had gone into raising our family and we weren't sure what to do next.
The idea for the Missouri Star Quilt Company came out of the blue. Previously, I had designed costumes for the theatre, but when we moved to Missouri the theatre scene wasn't very big—it was all about quilting! I took a local quilting class and was immediately hooked. I quickly began stitching up quilts for friends and family from whatever fabric I had on hand. It was so much fun! Then, one day I brought in some quilts to be machine quilted at a local quilt shop and I was told I'd have to wait a year for it to be finished. Two of my children, Alan and Sarah, told me, "Mom, if you have to wait that long to have your quilts quilted, there's gotta be a lot of demand. You should start your own machine quilting business!"
The idea of sewing quilts for a living thrilled me—they say that if you do what you love, you'll never work a day in your life. So, in November of 2008, on a shoestring budget, we bought a small brick building in Hamilton that would fit a longarm quilting machine and the Missouri Star Quilt Company was born! At first, we only offered machine quilting services and sold a few quilt fabrics and quilting supplies. Little did we know that within a few short years, we'd be offering over 30,000 bolts of fabric, along with hundreds of our own quilting patterns, quilt kits, our very own quilt magazine called BLOCK, and a huge selection of precut quilting fabrics!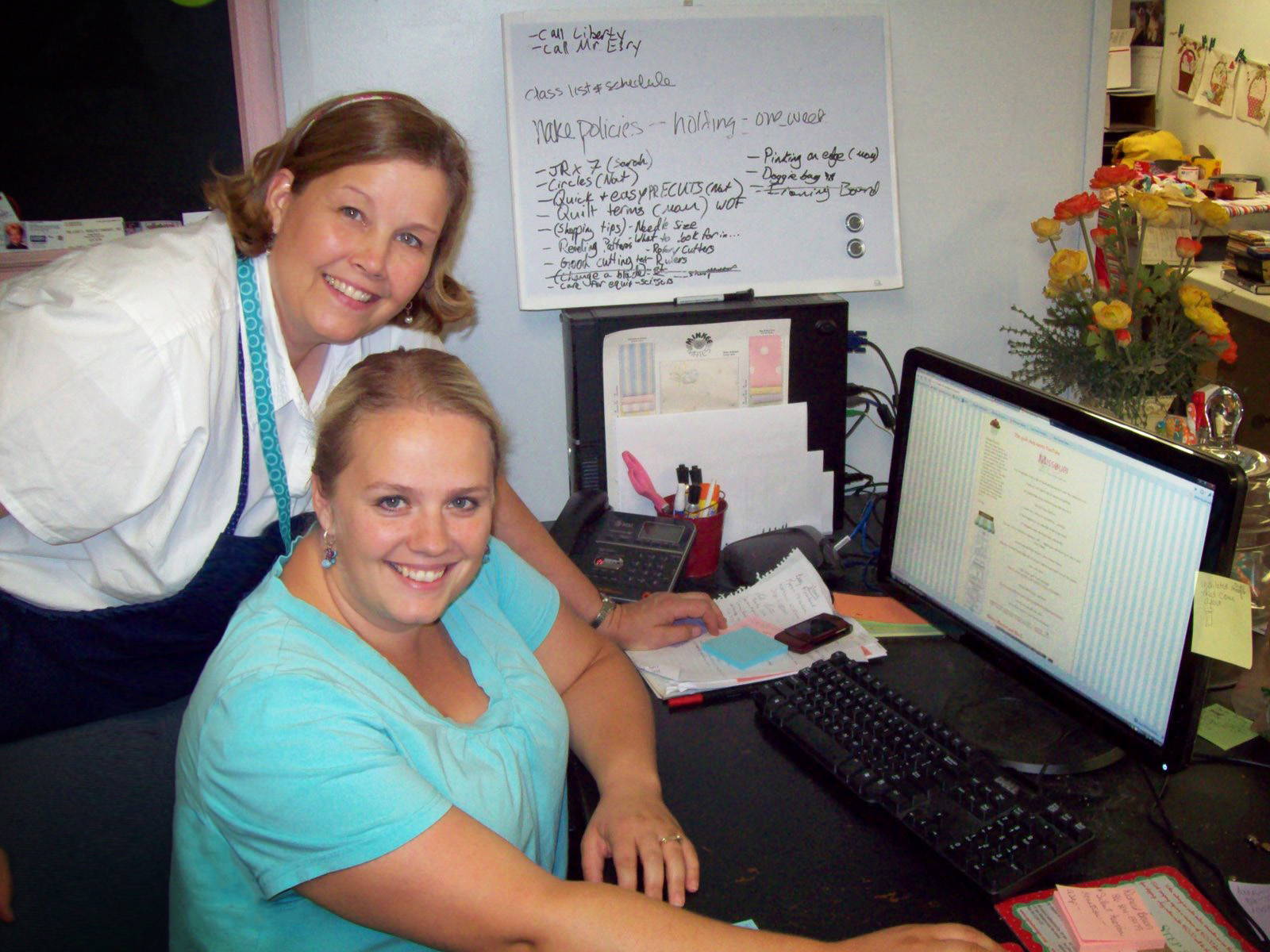 Shortly after setting up our small shop, we decided to take our new business online. My son, Alan, teamed up with his best friend, David Mifsud, whom he'd met while volunteering as missionaries in Kiev, Ukraine. With Alan's experience running tech-startups out west, David's financial and marketing background, and Sarah's knowledge of the quilt industry, we had the perfect ingredients to begin our online quilting business. I helped run the quilt shop with my daughters, Sarah and Natalie, while Alan and David focused their efforts online.
Those early days were long, with many sleepless nights. With virtually no money for advertising, we relied on our creativity and ingenuity to help our small company grow. My son asked me if I wouldn't mind filming some quilt tutorials to get our name out there and I responded, "Sure! … What's a tutorial?" I soon found myself in front of the camera, teaching quilting techniques to a tiny handful of viewers. That first tutorial video, like a small stone, produced ripples and became the start of something amazing.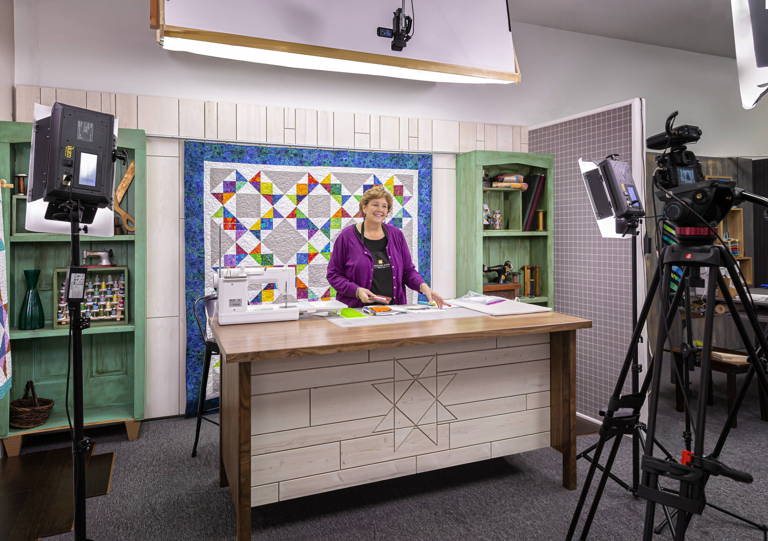 Today, the Missouri Star Quilt Company has the biggest quilting channel on YouTube! I never in a million years anticipated becoming a quilting "sewlebrity" with hundreds of quilting tutorials and half a million subscribers. It's been life changing to share so much of myself with people around the world. I didn't realize that making quilts would mean so much to so many, but after receiving thousands of personal letters and meeting such kind people wherever I go, I see that it gives people hope. It changes lives and it touches hearts. People are happier when they create and I'm grateful to help them do that every single day.
Making quilting simpler is what I'm all about. Precut fabrics are the building blocks of my tutorials and quilting designs because they make quilting quick and easy, which is great if you're on a time crunch to get that quilt done for a new baby, wedding, graduation, or any other special occasion. If you're new to precut fabrics, let me explain what they are. Precuts are bundles of quilt fabric cut into standard shapes and sizes, featuring an array of coordinating textiles from a designer's fabric line. They even have cute and delicious names like charm packs, layer cakes, and jelly rolls—almost makes me hungry! Using precuts means you don't have to spend hours picking out bolts of fabric—these little fabric bundles coordinate perfectly.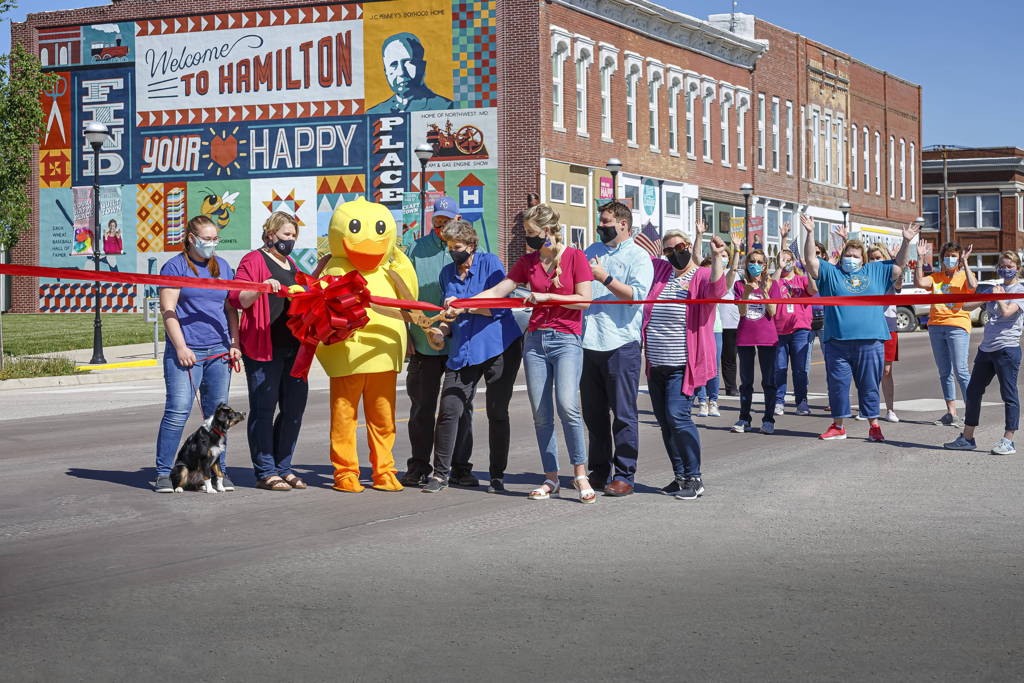 We've also created the ultimate quilter's experience that many call the "Disneyland of Quilting" right here in Hamilton. Our darling little town now attracts visitors from across the globe. Heck, we just had a bus full of quilters from Australia pull into town who were absolutely delightful! With 12 quilt shops right on main street—each featuring a different fabric theme—you're guaranteed to find quilt fabric you'll fall in love with! We even have a spacious Sewing Center for quilting retreats, great restaurants, the world's biggest spool of thread, and a place called "Man's Land" full of comfy reclining chairs and TVs, where weary folks can stop in and take a break from shopping (and even play a round of pool!). Hamilton, Missouri, (aka Quilt Town, USA) is a must-see destination for any quilter and I can't believe I live in such an incredible place!
If you like to shop in your pjs from the comfort of home, be sure to check out all the gorgeous material for quilts we have on our website. No matter what your style may be, you'll find it right here. We have everything from traditional reproduction fabric to fresh modern textiles. Looking for holiday prints? We have them year-round! What about some cute fabric for baby quilts? You've come to the right place! And if you're all about color, we offer a rainbow of basics, solid fabrics, and of course, beautiful batiks.
And you absolutely won't want to miss out on the Quilter's Daily Deal—it's the best quilting sale on the web! Every day we offer a discount of 40%-100% off a single quilting item. You'll find great quilting supplies to add to your fabric stash, including quilting precuts, fabric by the yard, notions, quilt kits, and much more.
Thanks so much for stopping by. I sincerely hope you've enjoyed hearing our story and we can't wait to hear your story too. Quilting has a way of stitching us all together. What started off as a small family business has now grown into an international community of quilters, and even though we aren't all related, we sure feel like family. No matter where you're from, we hope you'll come visit us soon!
Love, Jenny