Projects, Tips & Tricks for Sewing with Decorative Ribbons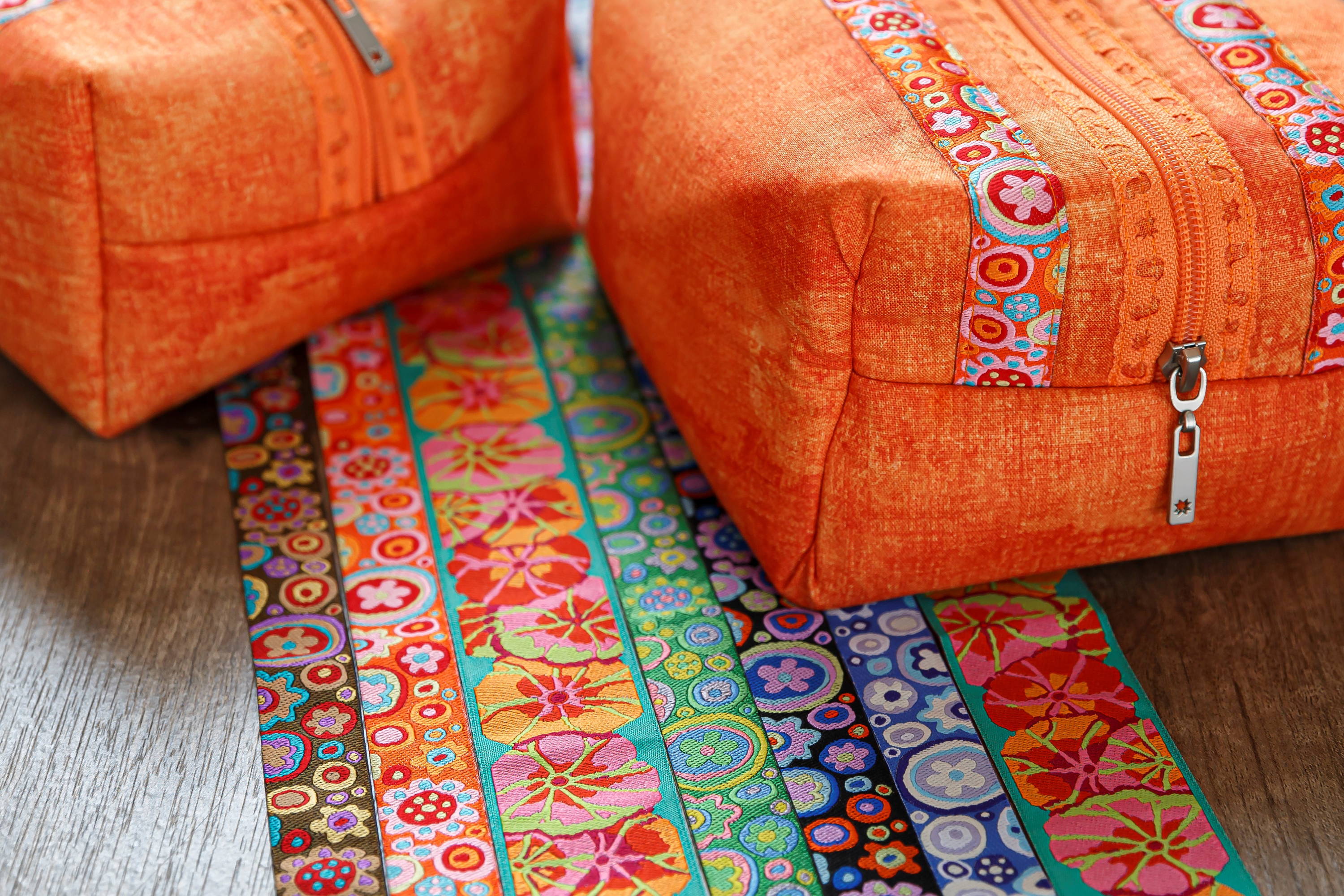 Have you seen the stunning and fun woven ribbons and wondered how in the world to use them in your projects? We searched for the best tips and ideas, picking Chuck's brain and the ideas from our sewing and pattern writing teams so we can share those awesome ideas with you. Use these as inspiration and share with us! Renaissance Ribbons' Designer Ribbon Packs, like this Kaffe Fassett ribbon, feature beautiful designs by some of our favorite designers as ribbons that can enhance and embellish handmade projects made by YOU! Let's get sewing!
Add a stripe to a tea towel - or more than one! This is a super-easy embellishment project.
Some tips: to keep your ribbon straight, you can draw a line in chalk or pencil that you will overlap with your ribbon so it's hidden. Fold the ribbon under itself at each end to keep anything from unraveling, and stitch straight-ish lines close to each edge of the ribbon to secure it to the towel. You can use decorative stitches here for even more embellishment. Match your thread color to your towel, to your decorative ribbon, or contrasting with both - all options look fun and make your towels your very own!
Accent the space between your fabrics on the Mia Bag by Sallie Tomato with a little extra - add a decorative ribbon stitched down over the seam where your two fabrics come together. You can choose to make this ribbon evenly spread over the two fabrics or move it up or down to give you a few different looks with the same ribbon. It's a lovely extra oomph to a super fun bag.
This zippy little bag is already super-easy and shows off the decorative zipper and a couple fave fabrics. Take a moment to add a ribbon or two, and it's even shinier! Again, you can stitch straight down the sides of the ribbon with a very scant stitch - sew around a 2.0-3.0 stitch length depending on whether you're matching/hiding your thread (2.0) or topstitching with something bright to show off the thread (3.0).
Add decorative ribbon to the strapping of your key fobs instead of encasing the strapping in fabric. SO pretty, practical, and versatile, these projects are super quick gifts (for yourself or a friend!). Simply stitch the ribbon to the strapping. That's it! Edges will be held in place by the key fob hardware, so you don't even need to do any folding under! Again, stitch and thread color are up to you as you make this project your own. We can't wait to key in to your details!
We were sew inspired to sew with these Kaffe Fassett ribbons from Renaissance Ribbons! What will YOU make? Share with us on social media using #msqcshowandtell and share YOUR inspiration!
---
---