Summer Road Trip & Travel Quilting and Sewing Projects

Don't leave your creativity behind as you embark on your summer! We've gathered some of our favorite summer projects to share with you. Whether your sewing from the comforts of home, or stitching on the go, be sure to always share your creations with us by using #msqcshowandtell on Facebook and Instagram!
Just because quilting is often seen as a home-based activity, that doesn't mean there aren't projects that you can work on from the road. Even if you don't enjoy bringing your work with you, take the time to immortalize your summer travels with a brand new Summer Travel Project!
Quilt As You Go Hexagon Quilt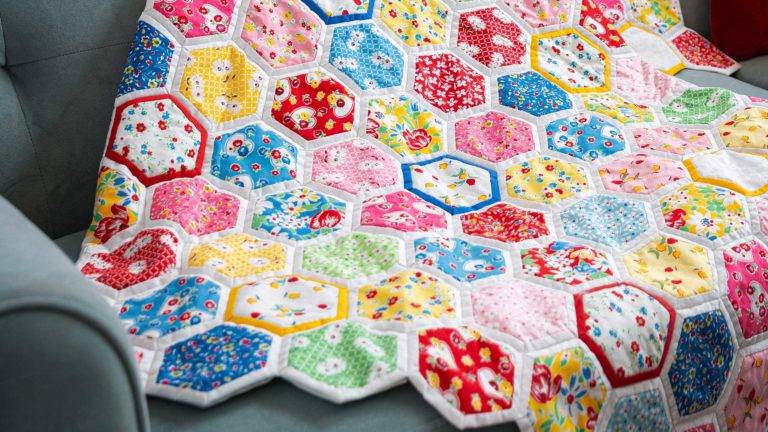 Is there a more perfect travel project than a Quilt as You Go Hexagon quilt? This revolutionary project is made easy with the Quilt As You Go 2 1/2″ Hexagon Template designed by Daisy & Grace which allows you to play with your fabric and fussy cut designs you'd like to feature. To finish, you can either hand stitch or machine stitch these beauties. Not only does this create a beautiful and unique finished quilt, but it makes quilting while you travel SEW much easier!
This template fits perfectly on a charm pack (you're definitely going to want some coordinating yardage for the backing though as it's slightly larger!). Go big and go bold with this project because it is bold in it's design. Consider a Kaffe Classics Prism Charm Pack by Kaffe Fassett for FreeSpirit Fabrics for your 5″ squares. Not only will these colors be vibrant, but they'll blend perfectly together to create an eye-popping, unique quilt!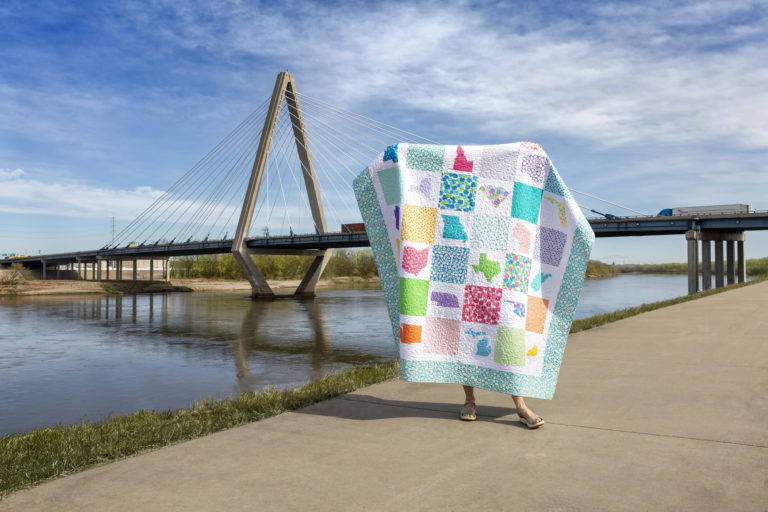 Planning a cross-country drive this summer? Show off your journey with the Road Trip quilt! This gorgeous pattern allows you to document your journey with easy to print state applique shapes. Even if you aren't traveling this year, stitch up a simple pillow using this pattern to commemorate your favorite destination.
Start this project by downloading the free state applique shapes and then select your favorite layer cake to fill them out! You can even pair the quilt with a matching pillow using your favorite state shape(s).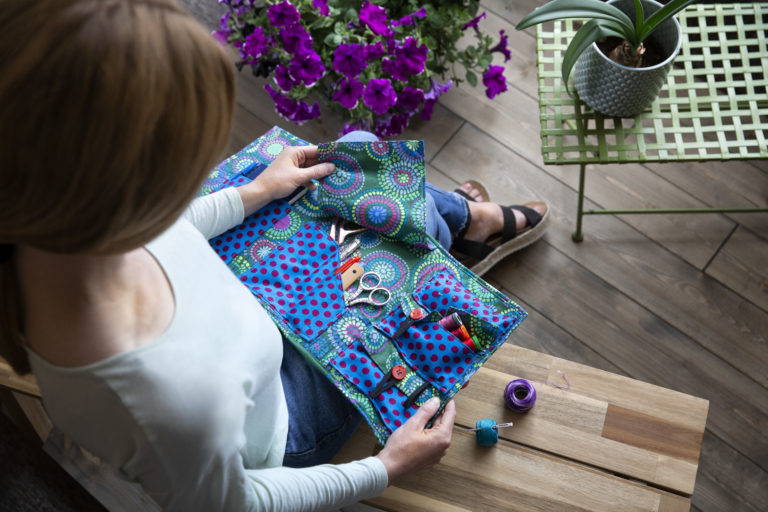 For those of us who prefer a little organization, the Sew on the Go Pouch is the perfect compliment to any summer vacation. Whether you're traveling on your own, or attending a sewing retreat (think of how handy this would be!) this cute little custom-made pouch holds your most important notions and tools of the trade.
This BLOCK Magazine exclusive is featured in Volume 7 Issue 3 and comes together with ease using no more than a few yards of scrap fabric. While this perfect stash buster will help eliminate your growing fabric supply, you can also create this project as a gift featuring a favorite fabric of a friend! Pick up some fabric by the yard, and create a long lasting and frequently used gift for the quilter in your life!
I spy with my little eye, your next quilting project! Do you have memories of playing the "I Spy" game in the car? Road trips in the summer are all about fun, so bring back this great summer travel memory by creating an I Spy Jar quilt featuring found fabrics from your travels!
You'll need charm packs to create this fun travel friendly project. If you're at home and ready to get sewing, consider a kid-friendly fabric that's full of different elements to point out! Make memories with your children or grandchildren by playing a game of I Spy at home with the quilt as your guide. If you are traveling however, pick up fabric on the way! Stop in at local quilt shops or repurpose some old T-Shirts for a truly unique project that captures all the great memories you made.