1
Free Shipping $100+ / Flat $5 Shipping
Need Help? Call (888) 571-1122
Man Sewing: Slice & Swap Quilt Tutorial
Rob demonstrates how to make a funky Slice & Swap quilt using 10 inch squares (layer cakes) and 1.5 inch strips of precut fabric (honey buns). He chose "Zen Batiks" Stack Pack by Kathy Engle for Island Batik and "Bella Solids" Honey Bun by Moda Fabrics.
Supplies list
1 pack x 10" Pre-cut Fabric Squares (Layer Cakes)
1 roll x 1.5" Pre-cut Fabric Strips (Honey Buns)
1.75 yards x Backing Fabric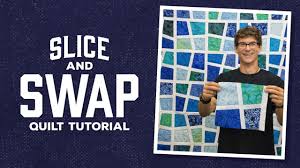 Featured products Get the Supplies Featured in this Tutorial
Machine
Finish your masterpiece and let us give it the finishing touch it deserves.
Related Tutorials
Subscribe to MSQC on YouTube

Hundreds of FREE tutorials and a new one from Jenny launches every Friday.