Shine Bright + Free Quilting Class Trial
Today, not only can you get a brilliant deal for a dazzling price, but you also get a free instructional video class that features the Kona Cotton - New Bright Palette Roll Up and a one-month free trial from our friends at Creativebug.com.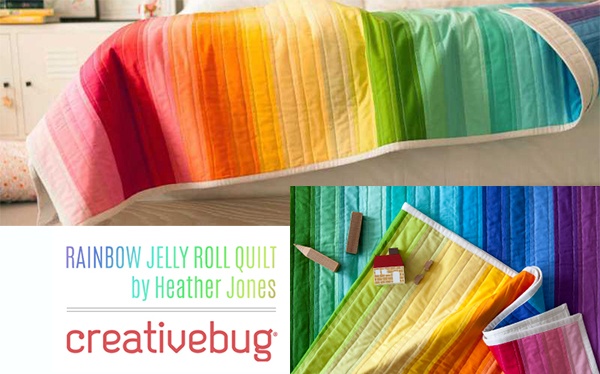 Quilting keeps me sharp and I like to think I'm a fairly smart person, but I have to admit: I have been known to do things that are not so bright. Last week I caught myself searching frantically around my bedroom for my cell phone while I talked with The Hubs… on the phone. Then last night I put the peanut butter away... in the freezer. Not my brightest moments.
But at least I can console myself that there are bumblers out there making even more ridiculous mistakes than that. Like the criminals who stole a cash register and some food from a burger joint in New York recently. They were caught when the cops followed a trail of the macaroni salad the culprits couldn't help but eat as they ran away! I could understand if it was chocolate chip cookies or something, but macaroni salad? Seriously? Look at your life choices, people!
You can keep yourself (and your home) bright by continually learning, creating, and, of course, steering clear of contraband macaroni salad. So because we love ya and we want you to stay bright, we've teamed up with crafting educator Creativebug.com to offer every MSQC customer a free one-month trial to more than 500 art and craft video classes plus 1 FREE video class of your choice to keep forever! All you have to do is enter the promo code MSTAR. Their latest quilting class from quilter and author Heather Jones shows you how to turn the Kona Cotton - New Bright Palette Roll Up into a simple and stunning quilt top. Click here for a sneak peek, and to start your free trial! There are tons of classes you'll love, but just to be super clear, you DO have to put a Credit Card number in to start the trial, but you can cancel anytime and can still keep your 1 free class forever just for giving the trial a try.
Free One-Month Trial at CreativeBug.com using promo code: MSTAR
Use Your Code by 10.31.2015
If that isn't sweet enough, we're also offering an amazing deal on that very jelly roll to get you on your way to making your own gorgeous Rainbow Jelly Roll Quilt. Each Kona Cotton - New Bright Palette Roll Up includes 41 2.5" x 44" strips of fabric.
So, in summary, the deal for today is a Kona Cotton - New Bright Palette Roll Up by Robert Kaufman Fabrics for Robert Kaufman for only $16.95 - that's 52% OFF!
Good news! If you are logged in when you buy this deal, you will receive 1% back in Quilter's Cash*. Any other products you add to your cart will get you 3% back in Quilter's Cash (and maybe more if they have bonus points!) Click here for details on the best Quilting Rewards Program on the web - Quilter's Cash!
Remember, we offer $5 flat shipping in the US (free for orders over $100), and great discounts for our international customers. Limit of 1 per customer at this "Daily Deal" price (additional will be added to your cart at the regular price of 27.95). Happy quilting!
* - 1% Quilter's Cash bonus does not apply to Daily Deals for Gift Certificates