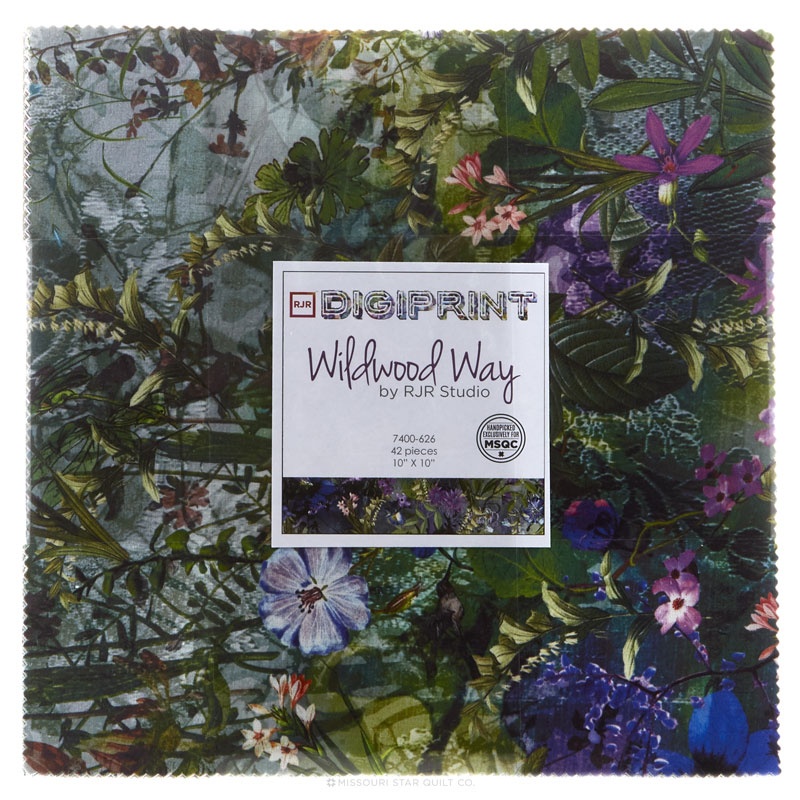 Today's Deal 46% off!
$22.50
Other Guys Price: $42.00

left to buy, or until we're sold out!
The Hot New Thing in Quilting
***This stunning Patty Cake will be featured in an upcoming quilt tutorial, so pick it up today and be prepared to make something amazing!***
When I started quilting I felt such a connection to my grandmother and the many quilters before her. The enduring art of quilting ties us to past generations in powerful ways. Which is why it sometimes strikes me as funny that quilting also sees exciting innovations. Precuts, die-cut machines, and a host of fun and helpful tools over the years have helped keep our imaginations fired.
Today's precut features a cool new way of making gorgeous fabric. For the full explanation, read to the bottom, but suffice it to say this digitally printed fabric is new, high quality, and totally gorgeous. And when you combine it with your own creativity and a little help from Jenny, you can turn this innovative fabric into a classic heirloom quilt!
This Wildwood Way Digitally Printed Patty Cake contains 42 10" squares of fabric. You receive 2-3 pieces of each print. Digital Printing achieves photographic color quality and provides more depth and vibrancy than traditional screen printing.
Wildwood Way is the first collection in the Digiprint Series by RJR Studio, and RJR's first line ever of digital prints. Inspired by real life photographs of botanical gardens, Wildwood Way is designed as a coordinated ensemble perfect for any garden themed project. For colorful effects, pair them with RJR's Malam Batiks or any cotton screen prints. RJR's Digiprints are produced out of Japan, home to the finest print plants in the world, with a promise of exceptional and consistent quality.
What is Digital printing? Digital printing is the reproduction of digital images on a physical surface. The dyestuffs do not penetrate the fabric as in conventional screen printing. Designs are adhered to the surface of the fabric by a heat process. The advantage of digital printing is in the high amounts of detail you can achieve and the photographic quality of the designs. Secondly, there are no limitations of screens, so you are not limited in color, which makes it one of the fastest growing segments in textile printing.
Valentine's Day is just 26 days away... Check out our Valentine's Shopping Guide and fall in love with sweet ideas!

So, in summary, the deal for today is a Wildwood Way Digitally Printed Patty Cake by RJR Studio for RJR Fabrics for only $ - that's 46% OFF!
Good news! If you are logged in when you buy this deal, you will receive 1% back in Quilter's Cash*. Any other products you add to your cart will get you 3% back in Quilter's Cash (and maybe more if they have bonus points!) Click here for details on the best Quilting Rewards Program on the web - Quilter's Cash!
Remember, we offer $5 flat shipping in the US (free for orders over $100), and great discounts for our international customers. Limit of 1 per customer at this "Daily Deal" price (additional will be added to your cart at the regular price of $36.95). Happy quilting!
* - 1% Quilter's Cash bonus does not apply to Daily Deals for Gift Certificates