The Luck O' the Quilter
It's almost St. Patricks Day, the time to wear green, tell stories about little redhead men, decorate with shamrocks, and pretend you're Irish. Why do we celebrate this way? And why do we celebrating this random holiday at all? Good question! Maybe there is just too big a gap between Valentine's Day and Easter to go by with no holiday. But hey, that's reason enough for me! Truth be told, I love St. Patty's Day.
My biggest concern with St. Patrick's Day is that I'm not particularly excited about green beer, but for many people "celebrate St. Patrick's Day" is just code for "drink a lot." Leave it to a man named Patrick (one of our favorite Patricks, in fact) to solve my St. Patrick's Day dilemma. According to Irish legend, normally a leprechaun's treasure is found at the end of the rainbow, right? Well this time, the rainbow is a fun fabric line, and now I can spend St. Patrick's day sewing until I discover the treasure I am left with at the end!
I am nuts about rainbow color quilts, especially when you set off the colors with white fabric. This line would look so fun in the Churn Dash quilt Jenny demonstrates here: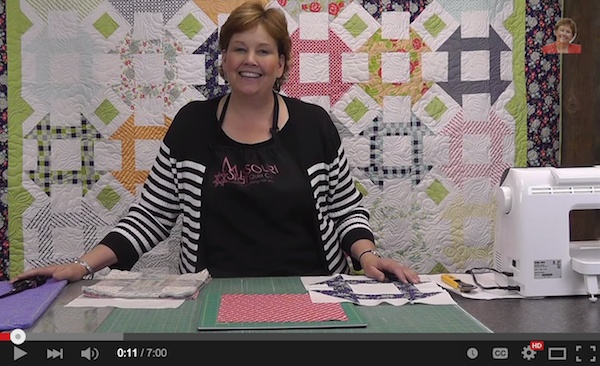 The bright, simple prints would also be perfect for this easy pennant project: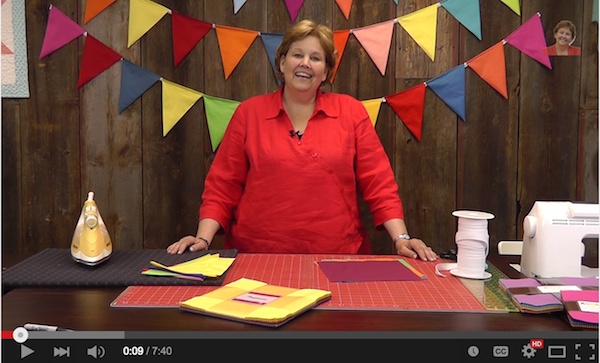 Each Basically Patrick - Sunflower Patty Cake by Patrick Lose for RJR Fabrics contains 42 10" squares. Most prints are duplicated. This pack includes all the colors of the rainbow starting with Sunflower.
So, in summary, the deal for today is a Basically Patrick - Sunflower Patty Cake by Patrick Lose for RJR Fabrics for only $19.95 - that's 49% OFF!
Good news! If you are logged in when you buy this deal, you will receive 1% back in Quilter's Cash*. Any other products you add to your cart will get you 3% back in Quilter's Cash (and maybe more if they have bonus points!) Click here for details on the best Quilting Rewards Program on the web - Quilter's Cash!
Remember, we offer $5 flat shipping in the US (free for orders over $100), and great discounts for our international customers. Limit of 1 per customer at this "Daily Deal" price (additional will be added to your cart at the regular price of 34.95). Happy quilting!
* - 1% Quilter's Cash bonus does not apply to Daily Deals for Gift Certificates