Spreading Sunshine
When Augustus Gloop fell into Willy Wonka's chocolate river and disappeared through a giant tube, Willy Wonka allayed Mrs. Gloop's fears: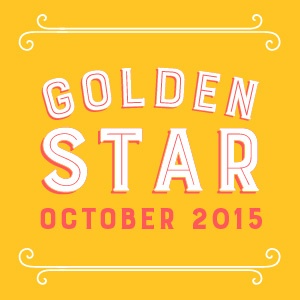 Mrs. Gloop: My son! He'll be made into marshmallows in five seconds!
Willy Wonka: Impossible, my dear lady! That's absurd! Unthinkable!
Mrs. Gloop: Why?!
Willy Wonka: Because that pipe doesn't go to the marshmallow room. It goes to the fudge room.
If you're worried about missing out on the amazing prizes during our Golden Star contest, Jenny has something to tell you:
Quilter: But what if I don't win anything?
Jenny: Impossible, my dear lady! That's absurd! Unthinkable!
Quilter: Why?!
Jenny: Because every ticket is a winner!
Remember, every day in October when US residents spend $25 before tax and shipping you'll receive a Golden Star scratch ticket in your order. Every ticket wins a prize, and you just might be one of our Grand Prize winners and get flown out here to meet Jenny and get totally spoiled, MSQC style!
When my brother moved into a new home years ago it was in a large field that had recently been converted from farmland into a new neighborhood development. It was a huge area of land, and since my brother's house was one of the first ones built, it was surrounded by lots and lots of dirt, a little alfalfa, and, to my surprise, plenty of sunflowers. In the time that passed before the rest of the subdivision was developed, the sunflowers spread and spread, bringing some unexpected sunshine to what was otherwise just a patch of dirt.
I bet you know someone like that. Some people show up where they're least expected, spreading sunshine and beauty to what, otherwise, feels like a desolate place.
Bring some beauty rich autumn colors to your next masterpiece with today's precut special. This Sunflower Song Jelly Roll contains 40 2.5" x 44" strips of fabric. Some prints are duplicated.
I love these colors for the Bear Paw Quilt, and they would be totally gorgeous in a Lovely Leaves Wall Hanging or quilt. Make sure to pick up a few more of the supplies you'll need so that you hit the $25 spend required to get a Golden Star scratch ticket!
So, in summary, the deal for today is a Sunflower Song Jelly Roll by Kansas Troubles for Moda Fabrics for only $19.95 - that's 49% OFF!
Good news! If you are logged in when you buy this deal, you will receive 1% back in Quilter's Cash*. Any other products you add to your cart will get you 3% back in Quilter's Cash (and maybe more if they have bonus points!) Click here for details on the best Quilting Rewards Program on the web - Quilter's Cash!
Remember, we offer $5 flat shipping in the US (free for orders over $100), and great discounts for our international customers. Limit of 1 per customer at this "Daily Deal" price (additional will be added to your cart at the regular price of 35.95). Happy quilting!
* - 1% Quilter's Cash bonus does not apply to Daily Deals for Gift Certificates