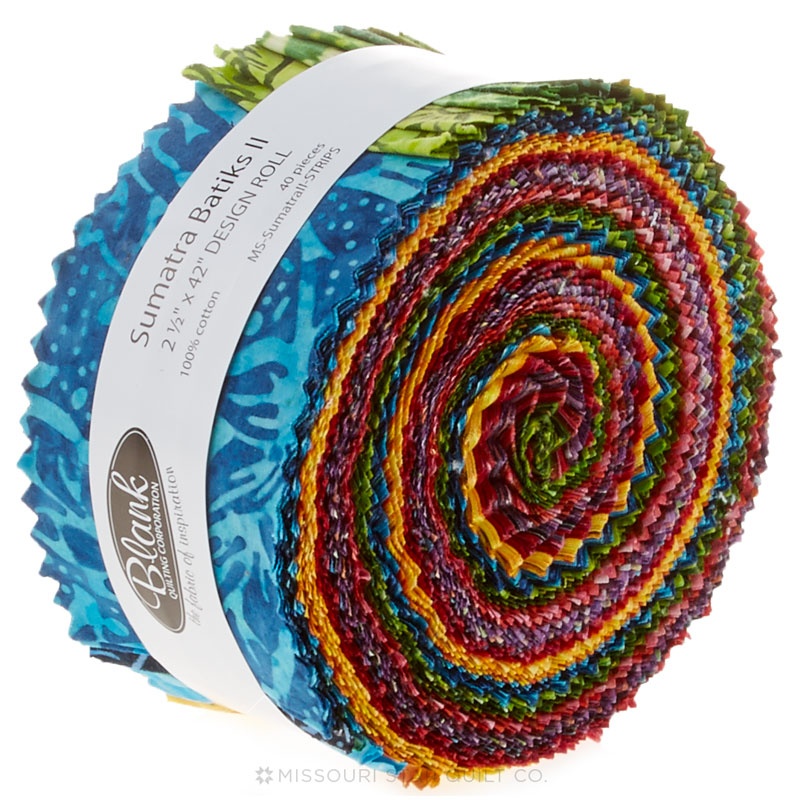 Today's Deal 41% off!
$23.50
Other Guys Price: $40.00
Limit of 1 per customer at this price

left to buy, or until we're sold out!
The Story in the Quilt

Like the last milliseconds before Usain Bolt crossed the finish line, MSQC's Golden Star Games are flying by. Lucky for you, you don't have to be the fastest person on the planet to win these games, just spend $25 before tax and shipping and we'll send you a Golden Star scratch card* guaranteed to win a fabulous prize like fabric, a notion, some Quilter's Cash, or a VIP trip to come visit us and meet Jenny!
Batik prints are an important cultural symbol in the island nations where the style originates. There are different types of prints for different people and occasions, including prints designed to be wrapped around babies to bring them luck, some for mothers-to-be, specific ones for royalty, and others to be worn by brides and grooms and their families. Today's gorgeous line of vibrant quilting batik doesn't come with a translation of the meaning… I guess we need a key like the ones you get in a box of chocolates! But if there was one I have a feeling it would say something like: "Quilting is a cycle of love. You quilt because you love fabric, because you love creating, and because you love others. Your quilts carry your love to the recipient, planting in them a love of fabric, creating, and of you. Also, can you even believe what a good deal this is? What a steal! It would look great in a Cutting Corners Quilt!"
Wow, it's amazing what can be communicated with just pattern and color, don't you think?
This Sumatra Batiks II contains 40 2.5" x 44" strips of fabric. Some prints are duplicated.
*Limit one scratch card per order. Golden Star Games is available only within United States and territories. However, international orders over $25 will receive a mystery gift!
So, in summary, the deal for today is a Sumatra Batiks II 2.5" Strips by Blank Quilting for Blank Quilting for only $23.50 - that's 41% OFF!
Good news! If you are logged in when you buy this deal, you will receive 1% back in Quilter's Cash*. Any other products you add to your cart will get you 3% back in Quilter's Cash (and maybe more if they have bonus points!) Click here for details on the best Quilting Rewards Program on the web - Quilter's Cash!
Remember, we offer $5 flat shipping in the US (free for orders over $100), and great discounts for our international customers. Limit of 1 per customer at this "Daily Deal" price (additional will be added to your cart at the regular price of ). Happy quilting!
* - 1% Quilter's Cash bonus does not apply to Daily Deals for Gift Certificates