Today's Deal 48% off!
$20.25
Other Guys Price: $39.00
Limit of 1 per customer at this price

left to buy, or until we're sold out!
Relief in a Desert of Boredom

Would you believe that a mother and daughter once competed in the same event in the Olympics in the same year? In 1904, Mary Abbott and her daughter Margaret both participated in the Olympic golf tournament. Margaret won gold! Get your mom or daughter in on the action of the MSQC Golden Star Games. You're both guaranteed to win! Just spend $25 before tax and shipping and we'll send you a Golden Star scratch ticket to find out what you've won!
Deep beneath the Sahara Desert, hundreds of feet beneath the sand, lies the thing you'd least expect: water. A lot of it. The ground beneath the Sahara is said to hold some of the world's largest deposits of underground water. It's certainly well-hidden, but there are places where the water springs up, bringing life and color to the desert.
Today's deal brings an oasis of color, pop, and vibrancy to any drab day!
Each Oasis Metallic Patty Cake contains 42 10" squares of fabric. Some prints are duplicated. This irresistibly pretty line would look lovely in a Friendship Pinwheel Quilt!
Remember, we also have 10 amazing Daily Specials again too!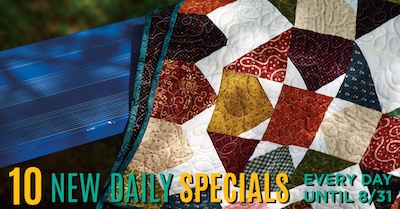 *Limit one scratch card per order. Golden Star Games is available only within United States and territories. However, international orders over $25 will receive a mystery gift!
So, in summary, the deal for today is a Oasis Metallic Patty Cake by Flaurie and Finch for RJR Fabrics for only $20.25 - that's 48% OFF!
Good news! If you are logged in when you buy this deal, you will receive 1% back in Quilter's Cash*. Any other products you add to your cart will get you 3% back in Quilter's Cash (and maybe more if they have bonus points!) Click here for details on the best Quilting Rewards Program on the web - Quilter's Cash!
Remember, we offer $5 flat shipping in the US (free for orders over $100), and great discounts for our international customers. Limit of 1 per customer at this "Daily Deal" price (additional will be added to your cart at the regular price of ). Happy quilting!
* - 1% Quilter's Cash bonus does not apply to Daily Deals for Gift Certificates