One Sweet Slice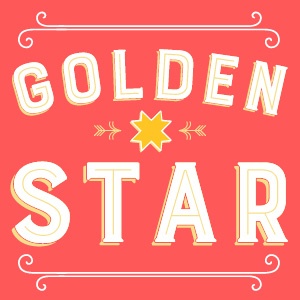 During the tour of Willy Wonka's chocolate factory, Mr. Salt thought Wonka was making stuff up. Willy Wonka replied: "I'm sorry, but all questions must be submitted in writing."
When you've got questions about fabric, quilting, or Jenny, Jenny says: "If you win the grand prize in our Golden Star contest, come on down to visit and we'll talk about it over dinner!"
Remember, every day in October when US residents spend $25 before tax and shipping you'll receive a Golden Star scratch ticket in your order. Every ticket wins a prize, and you just might be one of our Grand Prize winners and get flown out here to meet Jenny and get totally spoiled, MSQC style!
It's that time of year again… bake sale season. Perusing a bake sale has got to be one of the most pleasant responsibilities of a parent or grandparent of schoolkids. Schools are always in need of some extra cash, so out come the rice krispy squares, chocolate chip cookies, and cupcakes. Of course, there's always one overachiever; one mom who bakes something so lovely, so enticing, that you pretty much have to get there early to have a chance. You might hate that mom a little for making you and your box-mix brownies look bad, but you have to admit, you still want a slice.
Today's deal is that something lovely and enticing: a lemon chiffon precut so sweet it'll make you drool.
Each Zoey - Lemon Chiffon Charm Pack contains 42 5" squares of fabric. You receive 3-4 pieces of each print.
How pretty would the Orange Peel Quilt be in yellow? Answer: sooo pretty. Or you could make one of those adorable Tumbler Bags. Make sure to pick up a few more of the supplies you'll need so that you hit the $25 spend required to get a Golden Star scratch ticket!
So, in summary, the deal for today is a Zoey - Lemon Chiffon Charm Pack by Eleanor Burns for Benartex for only $1.95 - that's 81% OFF!
Good news! If you are logged in when you buy this deal, you will receive 1% back in Quilter's Cash*. Any other products you add to your cart will get you 3% back in Quilter's Cash (and maybe more if they have bonus points!) Click here for details on the best Quilting Rewards Program on the web - Quilter's Cash!
Remember, we offer $5 flat shipping in the US (free for orders over $100), and great discounts for our international customers. Limit of 1 per customer at this "Daily Deal" price (additional will be added to your cart at the regular price of 8.95). Happy quilting!
* - 1% Quilter's Cash bonus does not apply to Daily Deals for Gift Certificates